Shopping Cart
Your Cart is Empty
There was an error with PayPal
Click here to try again
Thank you for your business!
You should be receiving an order confirmation from Paypal shortly.
Exit Shopping Cart
Rev. Dr. Delesslyn A. Kennebrew, J.D., M.Div.
Visionary Strategist Faithful Innovator Inspirational Essayist
Salvation and Stilettos Blog
| | |
| --- | --- |
| Posted on May 6, 2016 at 1:40 PM | |
Greetings!
BlogFam, I am interrupting our series, #theSHIFT in order to share my reflections about a revival service I attended last night...
In 1982, a documentary about Gospel Music featuring the music and ministry of Thomas A. Dorsey and Willie May Ford Smith, entitled "Say Amen, Somebody" was released.  It was an exploration of the pioneers of the genre called Gospel Music - its message, its style, and its influence on future generations.  This documentary captured a part of Christian history that was the foundation for Gospel Music as we have come to appreciate it today. As I sat through revival service at Agape Church in the Adamsville neighborhood of Atlanta, GA, I was reminded of scenes from that documentary.  It took me all the way back to the faded color, even black and white images in that documentary.  My experience at Agape would have fit right in.  No edits needed.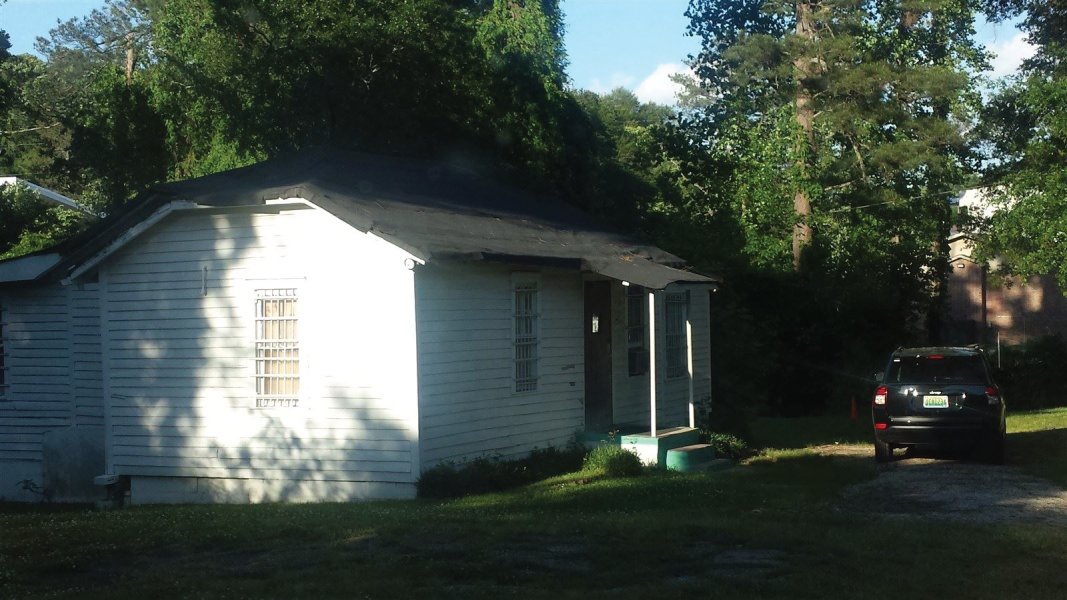 I had never been to Agape Church so I had to put the address in my GPS in order to find it.  When I turned down the street and the GPS indicated that I had arrived at my destination, I will not lie to you, I kept driving because my first thought was "I know this cannot be it!"  I was going to a city-wide revival to hear a colleague preach and the expectation in my mind was that the church property would "at least" have a paved parking lot, manicured lawn, and a building that sat minimum 200 people.  I kept driving because surely, that could not be the building.  The building I saw was not at all what I pictured in my mind.  I  was thinking maybe my GPS stopped me too early or maybe this building was the "historic" site and the "real" church building was down the street.  I drove a little further and there was no other church building.  I turned around on a dead end street and went back.  
Now, at this point I must admit that I was debating whether or not I would even stop and park and get out because it did look a little shady.  I only saw a few old men in the church yard and maybe 2 other cars.  I did not know what to expect and it certainly was not what I have come to accept as my "norm."  And the more I had these thoughts, I had to pause and pray because who was I to judge?  If I believed that the Lord is present everywhere, then the Lord could very well be present at this one room, white painted building with its air conditioners hanging out the windows, grassy parking lot, and church sign under the huge tree.  This was the place for the city-wide revival... even if the "city" could not fit in this space.  I pulled into the church yard and told the parking attendant, "Don't block me in!"  I knew that I wanted to be able to get out quickly if I needed to.  He guided me to a comfortable space.  I said a quick prayer and I got out of my car.  As I closed my door and set my alarm using the key fob, that same parking lot attendant asked if I was ready to go in.  I said, "Yes, Sir."  And like a gentleman, he kindly offered his arm and escorted me to the front door.  
I was already a little skeptical as you have probably already picked up, but I walked through the door anyway.  I walked right into the sanctuary.  No lobby.  No foyer.  No narthex.  No vestibule.  I walked right into the sanctuary and to my immediate left was the pulpit with three purple high backed chairs and on my immediate right was one speaker and a keyboard on top of an organ for the church musician/host pastor.  I was warmly greeted by the prophetess/usher who later I found out was also the praise and worship leader.  She complimented me on my appearance, gave me a program in black and white with off centered text and told me I could sit on the second row.  I sat on the second row...on the end of course.  I almost considered giving my program back after the lady, who I figured out later was probably the host pastor's wife said that she only needed to give a program to every third person that comes because the handful she was holding was all they had to pass out.  I began to look around the room, collect my thoughts, and prepare my mind for worship in this very different space.  
I looked up and down and all around the room.  I saw worn royal blue colored carpet and faded navy and tan chairs.  I saw windows boarded up with plywood that had been painted white and a random green chalkboard on the wall.  I assume that they probably used it for Sunday School on Sunday mornings.  There was one bathroom that a lady used during the service and I could hear her as she finished her business because the bathroom was right off the sanctuary.  I had the physical urge to use the bathroom but I held it because I did not want anyone to hear me as I had heard her.  Anyway, I saw cottage cheese ceilings and there was a drummer who did the best she could to keep up with the off beat singer and musician/host pastor.  I looked up and behind me to see a tattered sign that read, "Just Because God Said It."
Just before service began, the guest preacher came in and walked to the back of the sanctuary to put on his robe.  I am not sure if there was a pastor study or not.  There was one door that had the word "Private" on it, and I think that might have doubled as the pastor's study and the finance room because that is also where they took the money after offering.
Service began with a song.
"I bless your name, Oh Holy One!"  
I had never heard of any of the songs she led and obviously no words were printed on the program and there was no screen for me to read the words.  I tried to pick up the alto line as is my custom anywhere I worship but it was so hard to find between the musician and worship leader.  I think there was a little tone deafness at play so I just smiled and listened to them sing their hearts out!  
"I bless your name, Oh Holy One!"
They sang and sang and enjoyed Jesus.  I had not participated in a praise and worship period like that in forever.  They were so sincere and so out of key and it made me smile.  It made me smile because I knew they really were doing the very best that they could.  I did not understand what they meant when the lyrics shifted to -
"Oh Lord, Don't take your praise!"
I did not get that line but they seemed to enjoy it and I chose not to over-analyze and just go with it.
The preacher that was the emcee for the night had a very commanding bass voice and tall, slender frame topped with a white afro.  Before worship, I overheard him talking about how he stopped wearing robes years ago and had someone to make him a preaching jacket that he could put on top of anything.  He had on his preaching jacket tonight - a multi-colored pastel knit garment that really was a pullover thin sweater - accessorized with a black fanny pack, olive green pants, and a red and white button that said "I am loved."  He opened his commentary by quoting pretty much what might equate to a full chapter of the Bible and would pause for the congregation to fill in the blanks.  Thank God for the Bible Drill Team of my youth!  I was able to flow right with them.  He introduced every part of the program with a unique flair of story and prayer requests and scripture.  And one of my favorite parts was when he led the welcome song - 
"The Bible says you're welcome, so you're welcome, welcome, welcome!
The Bible says you're welcome, so you're welcome, welcome, welcome!
Welcome to the House of the Lord!"
The program was set to have a lecturer and a preacher.
Both presentations were inspiring and challenging and more than what I expected.  The lecture was given by a seasoned pastor.  You know, the kind of pastor that has believed the Gospel and preached the Word for so long that every word he speaks is full of conviction and power.  He was that kind of lecturer and those are so rare.  His lecture was based on Proverbs 3:9-10.  His subject was, "Give Back," and I enjoyed listening to him build his argument and prove each point with the text. Just before the preacher got up, an older woman sang her own rendition of the hymn, "Amazing Grace," by request of the preacher.  She sang it with such passion that many were moved to tears as they listened.  Then the preacher got up.  The sermon was a prophetic call to action.  The text was Isaiah 21: 11-12.  His subject was taken from the 11th verse, "Watchmen, What of the night?"  The sermon was an appeal to keep fighting for justice and to never quit doing whatever we are called to do to bring about justice in this world.
At the end of the service, the emcee shared a few prayer requests from the community and the guest preacher gave the benediction.
On my drive home, I began to think critically about all the things we say we "need" in order to have a "successful," inspiring, and impact-ful worship experience.  I wonder how many times are we unknowingly distracted away from the One whom ALL glory is due in order to make sure people are comfortable and entertained when they enter into the sanctuary.  And even if we find that all of the frills are necessary, how many of us are truly giving God our very best with all that we are able to use to enhance the experience?  I may never visit Agape again but one thing I will never forget is their hospitality and their sincerity.  Everything that took place was truly from the heart and I know that God was pleased with what happened in that space last night.  Sometimes, we all just need to visit a church that we think is "dying" or "below our churchy and self-righteous" standards to be reminded that God is everywhere and worship can be just as meaningful without screens and lights and sets, without uniforms and trained musicians and fancy bulletins.  Sometimes we need to worship with children, in nursing homes, in hospitals, at one room churches or outside in nature just to be reminded of what really matters to the heart of God. Sometimes we need to be reminded that what we say is our best is empty because our hearts are far from God.... even if the presentation was "spectacular."
Say AMEN, Somebody!
Friends, today I pray for churches everywhere.  I pray that every church opened in Jesus name would be filled with revival.  I pray that hospitality and sincerity would be the order of the day and that humility would keep our attitudes in check.  I pray that churches everywhere would be open to hear how God may be leading them in this season and that they would give their very best in every way as unto the Lord.  I pray that we would be open to experience God in new and exciting ways that draw us closer to God's vision and mission for our lives individually and collectively.  I pray that YOU would do your very best as you serve wherever you are and that the temptation to compare and compete with other churches - or people - is defeated.  I pray that we would not fear sharing the Gospel with the world and with each other, including in spaces that are unfamiliar, uncomfortable, or inconvenient.  And I pray that in everything we would LOVE God with our all and LOVE our neighbors as we love ourselves more than we love our buildings.
IN JESUS NAME...
Say AMEN, Somebody!
GOD LOVES YOU and I DO TOO!
Delesslyn
Categories: #FREEFlowFriday, NOT SO RANDOM THOUGHTS
/