Shopping Cart
Your Cart is Empty
There was an error with PayPal
Click here to try again
Thank you for your business!
You should be receiving an order confirmation from Paypal shortly.
Exit Shopping Cart
Rev. Dr. Delesslyn A. Kennebrew, J.D., M.Div.
Visionary Strategist Faithful Innovator Inspirational Essayist
Salvation and Stilettos Blog
| | |
| --- | --- |
| Posted on November 26, 2015 at 10:03 AM | |
Greetings!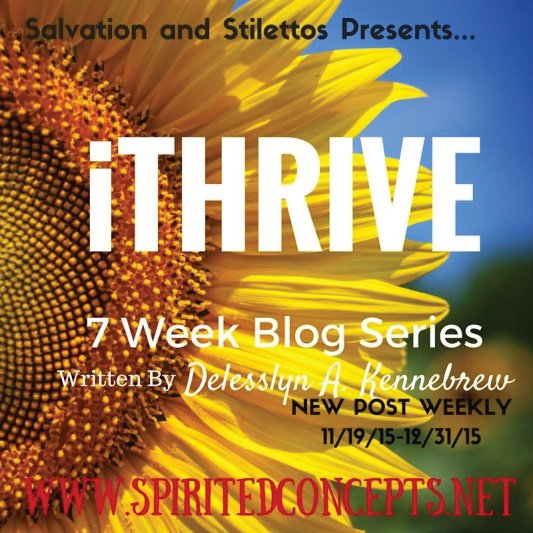 BlogFam - 
As I write this blogpost, I will admit that what I originally had in mind to share is not what seems to be flowing from my thoughts at this moment.  I am writing on Thanksgiving Day morning and I am writing as I watch scenes from the movie Selma, a 2014 American historical drama based on the 1965 Selma to Montgomery voting rights marches.  In particular, I just watched the scene where the first attempt to march across Pettis Bridge was met with violence, tear gas, horses, beatings, gun fire, trampling in clouds of smoke.  And as much as I want to focus on the feel good memories and present plans of family and friends to gather for Turkey and dressing, I am compelled to acknowledge that the struggle for justice for all is not over.  And so on this day, I am so very grateful to God for ALL the sacrifices that my ancestors and elders and even many of my peers have made on my behalf.
I am grateful today for the grace and the strength of civil rights leaders past and present, near and far, young and old, who fought and who fight for the rights of the few and the many.  I am grateful today for the opportunity to write and share my thoughts on the struggles that I know we all have experienced, internally and externally that have made us who we are.  I am grateful today for the unwavering hope that I and so many have that whatever we are facing will all work together for our good.  I am grateful today that the work to be done is being done quietly and loudly, in churches and in schools, in the streets and in courtrooms, in private and in public.  I am grateful that I believe in the prophetic word of God that "judgment [will] run down as waters, and righteousness as a mighty stream." [Amos 5:24]
Friends, Learn from the struggle.  I know that you may have your own internal struggles with hatred, procrastination, prejudice, self esteem, un-forgiveness, laziness, depression, pride, ingratitude, and immaturity.  And I pray that you would surrender your heart, mind, strength, and soul to God so that the one who is greater inside of you will help you to overcome your struggles so that you can thrive.  However, the internal struggles that we have are also evidenced in the social ills that we see in the external struggles for liberty and justice in America and around the world.  There is a work for all of us to do.  And sometimes, we have to look back, look around, and dare I say, look inside in order to familiarize ourselves with the struggles of those around us because it is the same struggle that we face every time we look in the mirror every morning or wrestle with before falling asleep at night.  
Dr. King said, "Darkness cannot drive out darkness: only light can do that.  Hate cannot drive out hate: only love can do that."  Therefore, in order for YOU to thrive, and for all of us to thrive together, we must pursue LIGHT and LOVE.  Now, as a believer in Jesus Christ, Jesus is the Light and the ultimate example of Love that I aspire to.  I am even reminded of the witness in the Bible that conveys the struggles of our Lord - internally and externally, as He lived to fulfill God's purpose for Him on earth.  Though we most often want to focus on the glorious moment of Resurrection, the struggle of the Cross and Crucifixion is an unavoidable reality that was a part of the journey to our redemption.  And while none of us will need to die for the sins of the whole world, all of us can thrive as examples of light and love in this dark and hate-filled world.
BlogFam, today, I pray that you would learn from your struggles.  Identify them and own them exactly as they are within you.  I pray that you would open your heart to feel and your eyes to see the struggles of others around you.  I pray that you would be grateful for the hope that everything is working together for your good and that you would feel a sense of urgency for the prophetic word of God through the prophet to come forth quickly.  I pray that your honest reflection would push you to act in order to enhance the ways you thrive in your life and that you would be compelled to act for liberty and justice on behalf of others.  I pray that you would be an example of light and love in this world and that your struggles simply bear witness to the amazing grace of God that is available to us all.  In the Name of the ONE who helps us to LEARN and to THRIVE...  Amen.
GOD LOVES YOU and I DO TOO!
Blessings, Glory, and Sunshine!
Delesslyn
Categories: #iThrive, WWJD = What Would JUSTICE Do?
/