Shopping Cart
Your Cart is Empty
There was an error with PayPal
Click here to try again
Thank you for your business!
You should be receiving an order confirmation from Paypal shortly.
Exit Shopping Cart
Rev. Dr. Delesslyn A. Kennebrew, J.D., M.Div.
Visionary Strategist Faithful Innovator Inspirational Essayist
Salvation and Stilettos Blog
| | |
| --- | --- |
| Posted on December 6, 2012 at 2:46 PM | |
THANK YOU BlogFam!
PRE-Birthday Celebration Post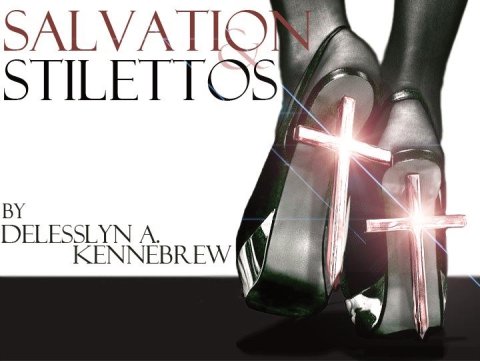 Colossians 3:17
And whatever you do, whether in word or deed, do it ALL in the name of the Lord Jesus, giving thanks to God the Father through him.
Greetings!
BlogFam,
This is a very special week for me!  This is actually the anniversary week of my blog!!! YES!  YES!  As of December 8, I will have been blogging for ONE YEAR!!!  I am very excited about that.  So much has happened in my life over this past year and I am sure that many of you can say the same.  I pray that the Salvation and Stilettos Blog has been an inspiration to you as we reflect on the words of Scripture together in this space. 
I know that this blog has been a lifeline for me in this year of transition.  It has been a gift from God to me, a way for me to stay connected to the Spirit and to be held accountable to the community.   I am so grateful for the gift to write and I look forward to the many ways our God will use my gift for His Glory in the Kingdom.
When I began my blog, it really was on a whim. I had not been thinking and planning to do a blog at all.  I had thought about blogging just because I had read so many others and I liked the idea of having a space on the internet to express one's thoughts at length without the limitation of 140 characters on Twitter and without the competition of being found in the Newsfeed on Facebook.  (Though, I do use both of those social networks to promote my blog J)  I was not seriously thinking about blogging until the day before I started the blog after being inspired by Oprah, of course.  LOL!  I wrote about it briefly in my introductory blog.  Please feel free to read it now!
I have completed a number of series over this last year and I have written nearly300 blog posts this year.  I am not sure about the exact number but I know it is well over 200 blog posts.  I am grateful to the Lord for the gift, the ability, and the opportunity to write and I look forward to writing even more.  Now, to help me celebrate this GREAT accomplishment, I am asking that you do TWO things:
1 – SUBSCRIBE to the Blog and
2 – SUGGEST Topics/Themes for me to write about in 2013. 
Will you PLEASE do that for me?  I would greatly appreciate it!!!
I will leave you with this…  My Ministry/Personal Motto is Colossians 3:17 –
And whatever you do, whether in word or deed, do it ALL in the name of the Lord Jesus, giving thanks to God the Father through him.
Friends, I do not know what your dreams/goals/plans for your life are but if you are not working toward them in some shape, form, or fashion, it is time for you to DO SOMETHING!  And as you DO whatever it is you want to do that fulfills the desires of your heart, I PRAY that you would strive to please the Lord in ALL that you DO in word and deed!  AND that you would be grateful to God for the opportunity to pursue your dreams/goals/plans!
BlogFam, THANK YOU for a WONDERFUL year of love, fellowship, discipleship in our online community and I am looking forward to another year of writing your daily spirited concept for the Salvation and Stilettos Blog!!!
GOD LOVES YOU AND I DO TOO!!!
Delesslyn
FOLLOW on Twitter @AudraSunshine @SpiritedConcept @MyVISIONFast
Give the GIFTS of Inspiration!!!
Click on Covers to Purchase NOW!!!
Categories: GET A CLUE...About Me, INTRODUCTION, NOT SO RANDOM THOUGHTS
/