Shopping Cart
Your Cart is Empty
There was an error with PayPal
Click here to try again
Thank you for your business!
You should be receiving an order confirmation from Paypal shortly.
Exit Shopping Cart
Rev. Dr. Delesslyn A. Kennebrew, J.D., M.Div.
Visionary Strategist Faithful Innovator Inspirational Essayist
Salvation and Stilettos Blog
| | |
| --- | --- |
| Posted on October 17, 2012 at 5:02 PM | |
W.W.J.D. = What Would JUSTICE Do? Series
Take Your Bruises to the Lord and Leave Them There!!!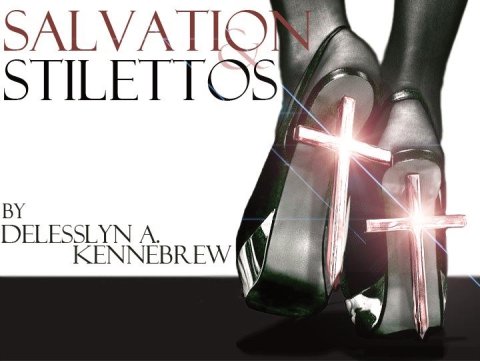 LISTEN NOW!
Bruises 10-17-12
Description
You need Flash Player in order to view this.
Luke 4:18-19
The Spirit of the Lord is upon me, because he hath anointed me to preach the gospel to the poor; he hath sent me to heal the brokenhearted, to preach deliverance to the captives, and recovering of sight to the blind, to set at liberty them that are bruised,
To preach the acceptable year of the Lord.
Greetings!
BlogFam, I know that it has been a while since I have written consistently.  Over the last few weeks, I have only managed to blog maybe once/week and at times, not at all.  The desire to share remains but I know the last few weeks I have also been in sermon preparation mode and so my writing energy has been channeled in that direction.  I am not excusing my commitment to my BlogFam as much as I am asking for you to extend this blogger some grace.  I do not take you for granted.  I believe in God.  I believe in You.  I believe in the work that God has called me to do through my writing and by God's grace, I will continue to do so as I am inspired.
To SET AT LIBERTY THEM THAT ARE BRUISED.
I will admit to you that this phrase does not make sense to me upon first glance.  Several questions come to my mind as to what the Lord truly means when He reads the words of the prophet – To SET AT LIBERTY THEM THAT ARE BRUISED.  Now, it would have made sense to me to set at liberty those who are imprisoned or those that are bound or those that are in shackles or those that are almost any word you can come up with that is an antonym for the word LIBERTY.  BUT in this passage, in the phrase of this passage, the word is TO SET AT LIBERTY THEM THAT ARE BRUISED.
Why do the BRUISED need to be liberated?  What about a bruise imprisons or binds or shackles us such that we need to be freed from our bruises?  I have had many physical bruises on my body for one reason or another and bruises can be ugly, painful, and can last for days or even weeks at a time.  A bruise is to injure without breaking the skin….to develop a discolored spot on the skin as the result of a blow, fall, etc. A bruise develops when small blood vessels under the skin tear or rupture and blood leaks into tissues under the skin and causes the black and blue color.  A bruise is an undercoverwound… and to be quite honest, these kinds of wounds in the Spirit can often be the most detrimental.
So, what about those wounds we cannot see that come as a result of a blow to our ego or a fall from grace?  What about those wounds we cannot see that are a result of injuries that do not allow others to see us break our focus or our stride?  What about those wounds that are just beneath the surface that are ugly but easy to cover and unlikely to be noticeable to others because they require no band-aid or cast?  What about those bruises to our emotional,financial, or social well-being that are not so easy to discuss yet we are imprisoned by their reality in secret? What about YOUR bruises?
TO SET AT LIBERTY THEM THAT ARE BRUISED… this is what Jesus says that he has come to do. Among all of the many things Jesus has done, is doing, or will do, Jesus has also come to liberate each of us from those bruises that no one can see but Him.  WOW!  Do you have any bruises like that?  It is amazing how the things we refuse to confess, admit, discuss, or own up to can keep us from fully living into the person that our God has created us to be. Some of us would rather walk around bruised in secret than to be liberated by the removal of our bruise. 
For when you walk as a son or a daughter of God who is free from your own secrets that the enemy tries to use to keep you from doing and being and having EVERYTHING the Lord has for you, you indeed become a force to be reckoned with!  But as long as you do not deal with our undercover wounds, the enemy has a hold upon yourlife's witness that will hinder you – burden you – shackle you – imprison you to the parameters of expression that are actually only a mediocre representation of the POWER of the Almighty to transform your life!
Furthermore, when you do not deal with the bruises that have left you torn or ruptured on the inside by surrendering your injury to Christ, you choose to remain spiritually bound to something that the Lord wants to liberate you from AND until you release your bruise to the liberating Christ, your soul will remain black and blue.
Friends, it is time to deal with your undercover wounds!  It is time for you to take your bruises to the Lord and leave them there! It is time for you to walk in the FREEDOM that comes from acknowledging God in EVERYTHING especially the injuries that are easily hidden from others!  It is time to take full advantage of the power of God to SET AT LIBERTY THEM THAT ARE BRUISED…and that includes YOU!!!
Friends, take your bruises to the Lord and leave them there!!!
GOD LOVES YOU and I DO TOO!!!
Blessings,
Delesslyn      
FOLLOW on Twitter @AudraSunshine or @SpiritedConcept
SUBSCRIBE and SHARE the Salvation and Stilettos Blog TODAY!!! And LISTEN ONLINE every Sunday evening as I host the Kids Korner Radio Program at 4:15C/5:15E on
www.wigoam.com
!!!
Categories: WWJD = What Would JUSTICE Do?
/