Shopping Cart
Your Cart is Empty
There was an error with PayPal
Click here to try again
Thank you for your business!
You should be receiving an order confirmation from Paypal shortly.
Exit Shopping Cart
Rev. Dr. Delesslyn A. Kennebrew, J.D., M.Div.
Visionary Strategist Faithful Innovator Inspirational Essayist
Salvation and Stilettos Blog
| | |
| --- | --- |
| Posted on September 19, 2012 at 1:57 PM | |
W.W.J.D.= Good News Still Exists!
Click Logo to Listen NOW!!!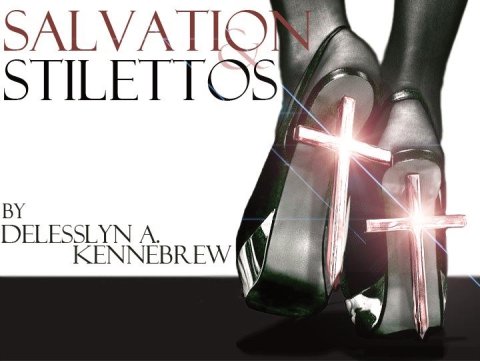 Luke 4:18a  "The Spirit of the Lord is on me,because he has anointed me to proclaim good news to the poor."
Greetings!
BlogFam, Do you like to hear good news?  Do you like to share good news?  Do you like to discover or create the situations out of which good news comes? Do you like good news?  I do! I like to hear it and share it and discover it and create it!  Good news – whatever that means to you – is usually positive.  Good news usually puts a smile on your face.  Good news can turn a bad day upside down.  Good news is just good.
Now, I know it seems that good news is rare and the moments are short-lived because of everything else we all have going on. I know it also feels this way because of all the negative reports we watch on TV or read in our local newspapers. However, I want you to know that GOOD NEWS STILL EXISTS!!!  And if good news seems to be the occasional rarity in your own life, I challenge you to go DISCOVER or go CREATE good news moments in your own life or better yet, in the lives of others that you can share and that they can hear.
Friends, GOOD NEWS STILL EXISTS!!!
Now, I believe in the truth of the Words of Jesus in the Bible and in our verse for today, He has read from the prophet Isaiah. His first line is this:
"The Spirit of the Lord is on me, because he has anointed me to proclaim
GOOD NEWS to the poor."
And when he finishes reading the complete passage, in Luke 4:21, Jesus says:
"Today this Scripture is fulfilled in your hearing."
BlogFam, there exists some GOOD NEWS that is always relevant and full of life, hope, peace, and joy.  This GOOD NEWS should be the headline of not just newspapers but of our lives.  This GOOD NEWS has never failed or forsaken, and it has never disappointed or discouraged. This GOOD NEWS is the Gospel of Jesus Christ and it has already been fulfilled.  In other words, it iscomplete and lacking nothing.
My sisters and brothers, as we reflect upon our overall theme: W.W.J.D. = WhatWould JUSTICE Do? I am compelled to remind us that in our efforts to hear, share, discover or create the GOOD NEWS of JUSTICE, we must begin with the one who came as Justice in the flesh, Jesus, the great liberator of us all.  I do not at all mean to dismiss the dismal reality of the poor amongst us but I do mean to challenge you to be the one to proclaim the GOOD NEWS to the poor – the spiritually and economically poor.  For at the most basic level, the common thread of inspiration on either side of this coin is that GOOD NEWS STILL EXISTS and JESUS is His name.  The GOOD NEWS to everyone, all over this world is that Jesus is our life, hope, peace, and joy and we must share this GOOD NEWS so that the world, especially those in our own house, canhear it.
We have kept this GOOD NEWS to ourselves for too long and people need to hear the GOOD NEWS that they are loved by the one who is the epitome of love.  This is GOOD NEWS!  People need to hear that if their hearts or their pockets are empty and void of what they need to meet their needs, well, the GOOD NEWS is that Jesus has not forgotten about them and He is willing and able to meet every one of their needs. The problem is that those of us who have discovered this truth for ourselves have neglected to share the GOOD NEWS with others who really need it.  We keep the GOOD NEWS of Jesus to ourselves and then wonder why the world is as crazy as it is!  We keep the GOOD NEWS to ourselves and then wonder why people of all ages are so broke and broken!  We keep the GOOD NEWS to ourselves and wonder why the poor exists amongst us!
I think it would be amazing if we applied our faith in Jesus to the injustices of this world and thereby created GOOD NEWS that can then be shared and replicated everywhere.  I know that you may feel like there are too many poor people in this world or in your community and you do not know where to begin.  Well, begin with the GOOD NEWS that Jesus loves everybody and every effort we make to create JUSTICE in this world, must begin by simply sharing the LOVE of Christ that we have already received. 
BlogFam, how will YOU share the GOOD NEWS with the poor on today?  This is the work of JUSTICE.  I know you may have never thought of it in this way but to share GOOD NEWS is to create JUSTICE.  Please do not dismiss the power of opening your mouth to speak words of life, hope, peace, and joy to those who are poor –spiritually or economically.  Jesus said He was anointed to PREACH – SPEAK – PROCLAIM – TELL GOOD NEWS and my friends, so are we!!! 
It is time for us to open our mouths with GOOD NEWS to those who need to hear that there is a better way, there is another way, and there is a faithful way to be in this world and it all begins with our relationship with Jesus Christ.  JUSTICE begins with JESUS and not a good quote or an organized rally or a great party or a few more dollars in the bank.  JUSTICE begins with Jesus and as those who follow Jesus are preaching – speaking – proclaiming – and telling the GOODNEWS that there is one who loves them so muc.h.  And because we have experienced the love of Jesus Christ we are compelled and commanded to love the poor, who are our neighbors.  We love the poor by sharing this GOOD NEWS in word and in deed. We love the poor by boldly declaring the GOOD NEWS of God's love for them.  We love the poor by following up our words with actions that create JUSTICE in their lives.  We love Jesus by loving the poor.
BlogFam, When we speak Jesus, Love, Justice, we are speaking terms that are interchangeable but if we speak nothing, then we are perpetuating the plight of those who are poor amongst us. So, my friends, SPEAK UP because GOOD NEWS STILL EXISTS!!!
GOD LOVES YOU and I DO TOO!!!
Blessings,
Delesslyn
FOLLOW on Twitter @AudraSunshine or @SpiritedConcept
SUBSCRIBE and SHARE the Salvation and Stilettos Blog TODAY!!! And LISTEN ONLINE every Sunday evening as I host the Kids Korner Radio Program at 4:15C/5:15E on www.wigoam.com!!!
Categories: WWJD = What Would JUSTICE Do?
/