Shopping Cart
Your Cart is Empty
There was an error with PayPal
Click here to try again
Thank you for your business!
You should be receiving an order confirmation from Paypal shortly.
Exit Shopping Cart
Rev. Dr. Delesslyn A. Kennebrew, J.D., M.Div.
Visionary Strategist Faithful Innovator Inspirational Essayist
Salvation and Stilettos Blog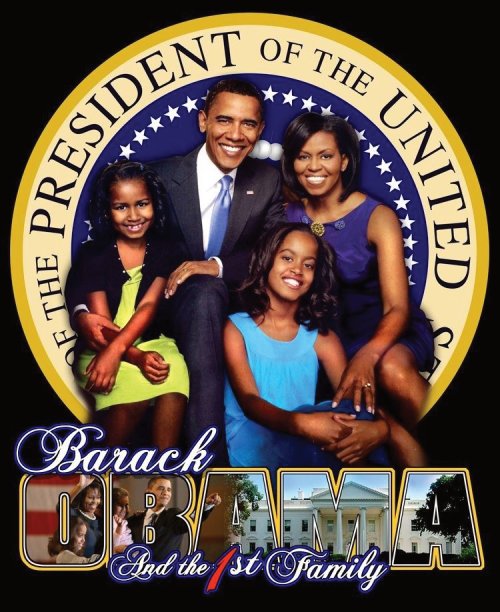 Greetings!
BlogFam, 
Today is the official inauguration date of Donald Trump.  And no, I will not go on and on about what his presidency might mean to these United States of America for the next four years.  There has been enough of that kind of speculation both well-informed and sometimes misguided, emotional rhetoric since the day of his election back in November 2016.  However, I do want to pause and say THANK YOU, LORD for the pivotal and invaluable leadership of President Barack H. Obama and his entire family.  I am grateful to have witnessed an African American president in my lifetime and I will be so proud to share this piece of history with my own children one day.  But today is the beginning of a new era in American politics and social policy.  I honestly do not know exactly how this will all play out but given the person that our President-Elect has shown us and the people with whom he has chosen to surround himself as advisers and cabinet members, I can certainly understand why so many have been in mourning.
Actually, I am reminded of one of my favorite people in the Bible, Nehemiah.  In Nehemiah Chapter One, Nehemiah asks a question about his home and he his deeply saddened by the report - just as many are deeply saddened by this inauguration; but Nehemiah's response teaches a lesson to us that I believe we would do well to take heed.
Hanani, one of my brothers, came from Judah with some other men, and I questioned them about the Jewish remnant that had survived the exile, and also about Jerusalem.  They said to me, "Those who survived the exile and are back in the province are in great trouble and disgrace. The wall of Jerusalem is broken down, and its gates have been burned with fire." When I heard these things, I sat down and wept. For some days I mourned and fasted and prayed before the God of heaven. [Nehemiah 1:2-4]
Friends, it really does not matter to me on which side of the political aisle you choose to stand, as a child of the Most High, if we just look with eyes of compassion on this world and the prevalence of crime, poverty, prejudice, injustice, and unrighteous motives, maneuvers, and manipulations, we ALL should be in mourning.  We should all be in mourning because in so many ways, America is in "great trouble and disgrace" and her walls of liberty and justice for all are broken down and its gates to secure the inalienable rights of all people in its borders have been burned with the fire of ignorance, hatred, and intolerance. I understand why people are weeping as Nehemiah did for his beloved city, Jerusalem.  All you have to do is read the newspaper or scroll down your Facebook timeline, or watch the news and you will see that we are in a state of social, educational, and economic crises.  
Yet, I am reminded of that great call to action in 2 Chronicles 7 when the Lord speaks to King Solomon after the dedication of the temple:   if my people, who are called by my name, will humble themselves and pray and seek my face and turn from their wicked ways, then I will hear from heaven, and I will forgive their sin and will heal their land.
I believe that Nehemiah knew that the very first thing he had to do in spite of his tears, his grief, his mourning, was to fast and pray before the God of heaven.  Honestly, perhaps that is what makes me feel somewhat uneasy and definitely disappointed with the believers who critique our president elect so harshly out of their own deep grief and devastation.  We can mourn but do we care enough to mourn AND fast and pray?
BlogFam, again, it does not matter to me on which side of the political aisle you choose to stand, if you are a child of the Most High, if you also believe that we are in a state of crises, then call a fast and get on your knees.  Pray to the God of heaven asking God for your own forgiveness and forgiveness on behalf of this great nation.  Turn from your wicked ways, and then be open to receive our healing.  I can only imagine the great revolution in our country if EVERY believer committed to doing just that. I offer these next steps, not as an oversimplification of the work it will take to see the shifts we need to bring our nation to prominence and restore the hope of all of its citizens.  I offer this a necessary step that must not be skipped as we take action to march, write, vote, speak, legislate, protest, and sing our songs of freedom.
Nehemiah wept over the state of Jerusalem in his day.
Many of you are weeping over the state of America, today.
But I strongly encourage you to follow the example of Nehemiah - and the instructions to King Solomon - and take your mourning one step further to fast and pray.  
OR do you only care enough to mourn?
God Loves You and I Do Too!
Blessings, Glory, and Sunshine!
Delesslyn
Greetings!
BlogFam,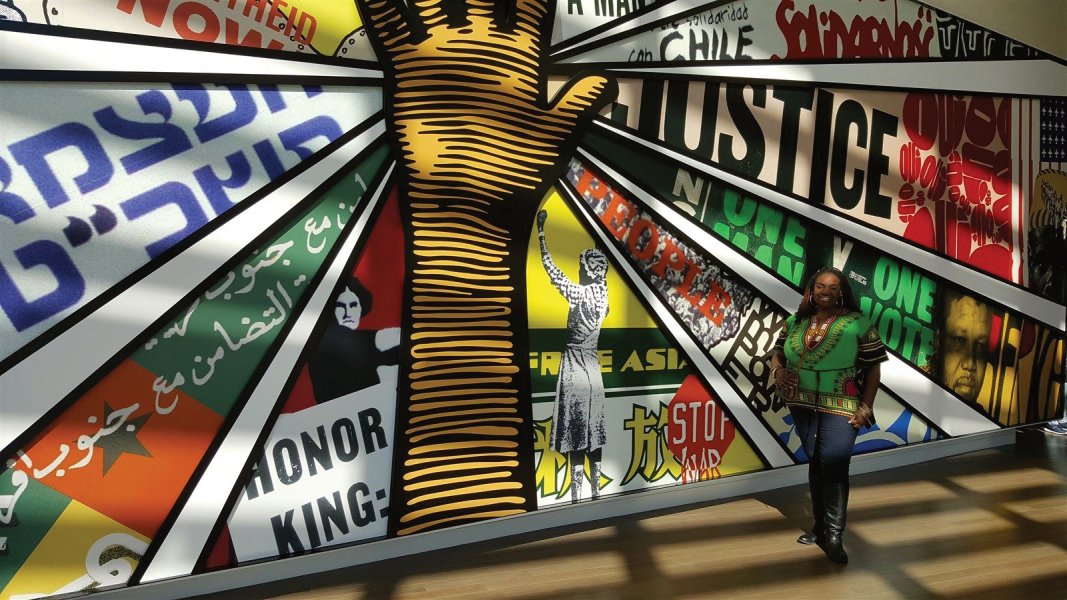 Today, I  visited the National Center for Civil and Human Rights in Atlanta, GA.  Can we just pause right here? I literally took a deep breath after writing that first sentence because of all the emotions I felt in response to the images  I saw that continue to cause a deep wrestling and restlessness within.  Unfortunately,  as I reflected earlier today while walking through each exhibit, I was reminded, yet again, how I will never understand how anyone can have so much hatred in their hearts for another human being. I am also painfully aware of how many of the same attitudes and actions of those who carry such hatred are still among us today.  As I listened to the recordings and watched the videos and read the captions under the pictures, I saw and I heard so many words that could be apart of a 2016 commentary on any issue of social justice that is still an issue today.  For example, as I perused the Rev. Dr. Martin Luther King, Jr. Collection of writings,  I found this opening statement of an article by Dr. King, entitiled, "Nonviolence and Racial Justice," written in the 1958 issue of The Friends Journal, a Quaker Weekly:
It is impossible to look out into the wide arena of American life without noticing  a real crisis in race relations. 
His 1958 observation could be the opening statement of any reflection on the same topic in 2016. And the truth is that you do not have to only look at American life. The center allows visitors a glimpse of the "real crisis" around the world regarding human rights. And whether one admits it or not, the truth is that we have a global, international, national, regional, statewide, county/parish, local, neighborhood, down your street, and even in your house, heart problem.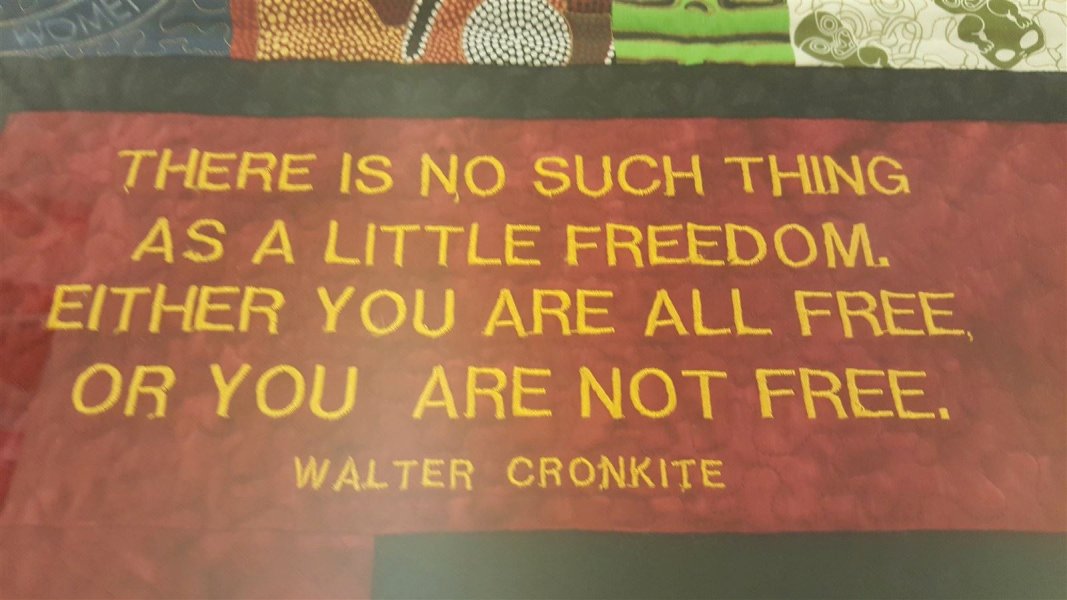 Heart problems evidenced by the senseless murders, endless insults, ruthless racism, careless posturing of greedy men and women who operate out of seemingly bottomless heart pits of hatred to promote injustice, fear, and economic and physical slavery around the world.
It is a sad commentary on the world that human beings can be so heartless.  It is sad and discouraging and overwhelming and angering to be a witness to the brokenness of our whole world. 
BUT.
GOD.
 Friends, as I walked through this center, as deeply grieved as I was, a question arose within: In what ways does the church perpetuate a blatant disregard for human rights?
The sad truth is that the answer is... IN EVERY WAY.  I do not recall one issue that I read about today that the church universal has not stood on the opposite side of love.  Think about it. Think about any social justice issue, or broader yet, any human rights issue* and I  bet all of us church folks can name at least one issue that we have chosen to be discriminating,  divisive, stubbornly  refusing to shift or at the very least show compassion for others who are the least of these enduring violations to their rights and humanity.   
Sometimes,  well, many times, I wish that  people would recall that JESUS said the GREATEST commandment is to LOVE.  And LOVE supercedes your doctrines, your shallow theological claims passed down from generation to generation,  and   even how you "feel" on a good or bad day.  LOVE is the ideal and very real solution to the heart problems of today.  If we, the church universal, would just OBEY those two greatest commandments, I can only imagine how the world could be a better place. 
Until then, I am not ashamed to say that my FAITH in God is my eternal hope and daily inspiration to surrender my heart to LOVE and pray that my actions follow. What about you?
GO LOVE SOMEBODY.... TODAY!
Blessings,  Glory, and Sunshine!
Delesslyn
*P.S. - FYI... THE 30 UNIVERSAL HUMAN RIGHTS... (http://www.un.org/en/universal-declaration-human-rights/)
Article 1 Right to Equality
Article 2 Freedom from Discrimination
Article 3 Right to Life, Liberty, Personal Security
Article 4 Freedom from Slavery
Article 5 Freedom from Torture and Degrading Treatment
Article 6 Right to Recognition as a Person before the Law
Article 7 Right to Equality before the Law
Article 8 Right to Remedy by Competent Tribunal
Article 9 Freedom from Arbitrary Arrest and Exile
Article 10 Right to Fair Public Hearing
Article 11 Right to be Considered Innocent until Proven Guilty
Article 12 Freedom from Interference with Privacy, Family, Home and Correspondence
Article 13 Right to Free Movement in and out of the Country
Article 14 Right to Asylum in other Countries from Persecution
Article 15 Right to a Nationality and the Freedom to Change It
Article 16 Right to Marriage and Family
Article 17 Right to Own Property
Article 18 Freedom of Belief and Religion
Article 19 Freedom of Opinion and Information
Article 20 Right of Peaceful Assembly and Association
Article 21 Right to Participate in Government and in Free Elections
Article 22 Right to Social Security
Article 23 Right to Desirable Work and to Join Trade Unions
Article 24 Right to Rest and Leisure
Article 25 Right to Adequate Living Standard
Article 26 Right to Education
Article 27 Right to Participate in the Cultural Life of Community
Article 28 Right to a Social Order that Articulates this Document
Article 29 Community Duties Essential to Free and Full Development
Article 30 Freedom from State or Personal Interference in the above Rights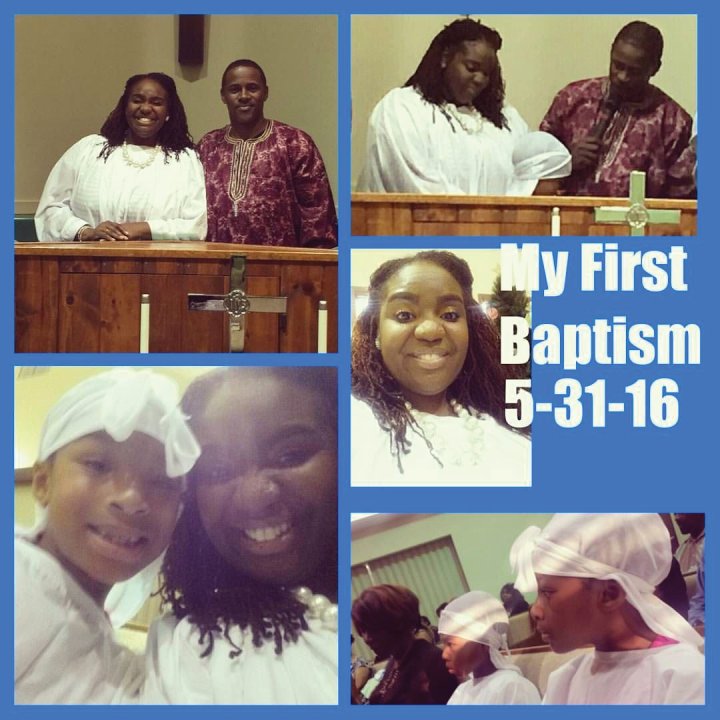 Greetings!
BlogFam - So much has happened since the last time I posted and I thank you for your patience and your prompts.  I have two more posts in #theSHIFT series and then we will move on.  However, this post is not one of them. LOL!  Today, I want to share with you a reflection on my first baptism.  YES, I said my FIRST baptism.
Let me testify.
YES, I have already been to the water.  I was baptized by my Father and godfather in the pool of Midway Church of Christ (Holiness) U.S.A.  I remember being scared and excited at the same time.  I did not know what to expect.  I did know that I could not swim and I did not want them to let me go when they dipped me in the water.  I knew that this was a special moment.  My grandmother made a white baptism gown with a matching hat just for me and at that age, of course, I did not think it was all that cute, but I wore it anyway.   I also did not think that I would be standing in the pool decades later baptizing a little girl who was the age I was when I was baptized.
On, Tuesday, May 31, I participated in my first baptism.  It was the very first time that I put on a white baptism robe and walked down the steps of a baptism pool as an adult for the purpose of baptizing another one of God's children.  When pastor first asked me if I wanted to do so a few months prior, I readily said YES!  I had dreamed of what it would be like to participate in this holy ordinance of the church and I was not going to let this opportunity pass me by.  I said YES!  And I was so excited about what this would mean for me and for the girl we knew we were to baptize.
I prayed and I fasted to prepare myself to be fully present in the moment.  I did not want to miss anything about it and I wanted to be spiritually ready for it.  My preparation  reminded me of the time I was on schedule to serve Holy Communion for the very first time.  I remember being excited yet so humbled that I would have the opportunity to serve the elements representing the body and blood of Christ.  The first time I was on the schedule to serve Holy Communion, there was a storm on that Sunday morning and I was driving slowly because I could barely see the road.  But I was determined to get to church.  I was driving from a longer distance than usual due to me having stayed overnight with family who lived farther than my usual drive.  Nevertheless, I was set on pressing my way to church to put on my white gloves and stand behind the table and share this meal in remembrance of Him.  Well, I got to church late.  Service had not begun but the morning meeting was over and my duties had been reassigned.  I totally understood but my heart was broken.  I had been looking forward to this moment for so long.  The moment came.  I missed it.  Tears filled my eyes as I quietly sat in worship feeling like I had missed a moment to meet the Lord and experience His glory in a new way.  THANK GOD for two services!!!  At the end of the first service, the Executive Elder came to me and said that one of the other seasoned ministers said I could take their place at the second service. And my heart filled with JOY again!  I was already there.  I was already ready.  
When I stood in that space, I was nervous but I was just overwhelmed with gratitude as I recalled everything I had gone through and was going through at the time.  It cost me a lot to stand there and I did not take it for granted.  It cost Jesus so much more...  I have served Holy Communion many times since then but I will never forget my first time.
I will never forget my first baptism.  I will never forget the tears that came to my eyes as I sat there listening to the Pastor pray about the significance of this moment in the lives of the two young believers who were getting baptized, our connection to the church universal,  and the public witness that baptism represents to all that: "I am crucified with Christ: nevertheless I live; yet not I, but Christ liveth in me: and the life which I now live in the flesh I live by the faith of the Son of God, who loved me, and gave himself for me." (Galatians 2:20)
As I approached the baptism pool, I was taking deep breaths and trying to stay calm because I did not want to be out of order in any way.  I walked down the steps into the pool.  The water was comfortable, just right actually.  It was not too cold and it was not too hot.  It was just right.  Then it was time for the first candidate.  She told the pastor her full name and she came into the pool, stood in the center of the pool, and placed her hands across her chest.  Pastor had already told me that I could immerse them by myself and he would give the pronouncement.  I placed my hand on her back and I covered her nose.  Now let me say this.  Baptism training was not part of my seminary education.  I had no training on how to immerse anyone so I just did what I had experienced when my daddy baptized me and what I had observed in my many, many years of going to church.  I placed my hand on her back and covered her nose.  Then I heard my cue... We baptize you in the name of the Creator, the Christ, and the Holy Spirit.  On cue, I gently immersed my young sister in Christ and brought her up.  It was so quick.  It was so wonderful.  We repeated the same for the second candidate.  My friend said I was smiling the whole time. I am glad that my first baptism experience was baptizing two children for their size and for their significance to the kingdom of God.  How special it was!  Let me add that it was so special, that after the baptism service was over, I was just standing in the pool, smiling and feeling happy and pastor had to tell me it was time to go!  "Reverend, I know you are basking in the glory of the water, but it is time to get out so I/we can change!"  LOL!
TO GOD BE THE GLORY!!!
I am pretty sure that I will never forget my first baptism just as I have never forgotten my first time serving Holy Communion.  I pray that the Lord will continue to create opportunities for me to participate in the life of the church in these ways.  I pray that I will never lose my sense of awe and wonder when I am able to lead and share in these amazing moments of God's grace remembered and revealed.
GOD LOVES YOU and I DO TOO!
Blessings, Glory, and Sunshine!
Delesslyn
Greetings!
BlogFam, I am interrupting our series, #theSHIFT in order to share my reflections about a revival service I attended last night...
In 1982, a documentary about Gospel Music featuring the music and ministry of Thomas A. Dorsey and Willie May Ford Smith, entitled "Say Amen, Somebody" was released.  It was an exploration of the pioneers of the genre called Gospel Music - its message, its style, and its influence on future generations.  This documentary captured a part of Christian history that was the foundation for Gospel Music as we have come to appreciate it today. As I sat through revival service at Agape Church in the Adamsville neighborhood of Atlanta, GA, I was reminded of scenes from that documentary.  It took me all the way back to the faded color, even black and white images in that documentary.  My experience at Agape would have fit right in.  No edits needed.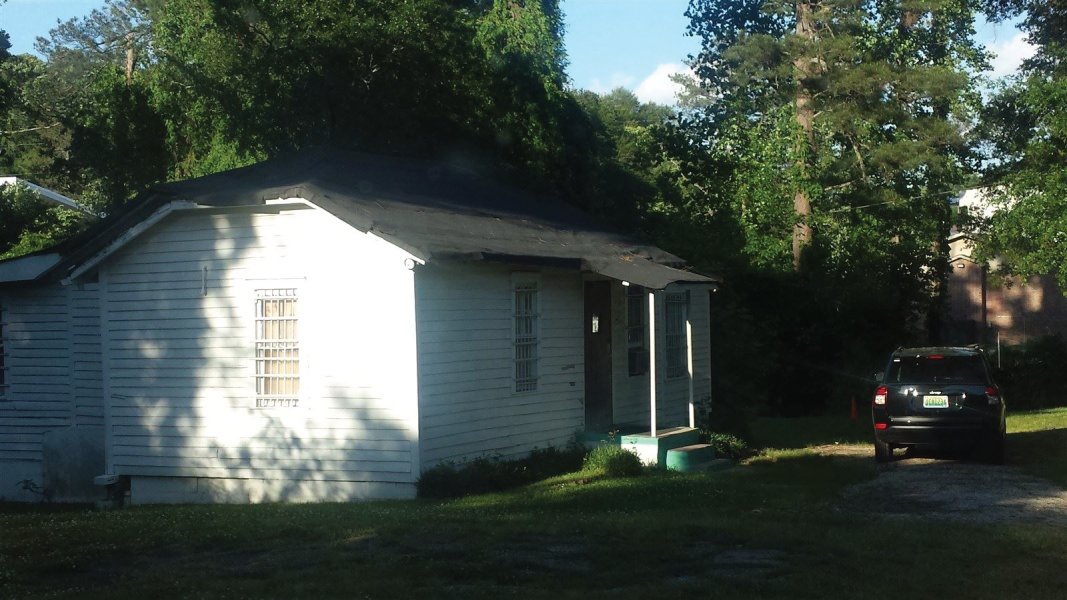 I had never been to Agape Church so I had to put the address in my GPS in order to find it.  When I turned down the street and the GPS indicated that I had arrived at my destination, I will not lie to you, I kept driving because my first thought was "I know this cannot be it!"  I was going to a city-wide revival to hear a colleague preach and the expectation in my mind was that the church property would "at least" have a paved parking lot, manicured lawn, and a building that sat minimum 200 people.  I kept driving because surely, that could not be the building.  The building I saw was not at all what I pictured in my mind.  I  was thinking maybe my GPS stopped me too early or maybe this building was the "historic" site and the "real" church building was down the street.  I drove a little further and there was no other church building.  I turned around on a dead end street and went back.  
Now, at this point I must admit that I was debating whether or not I would even stop and park and get out because it did look a little shady.  I only saw a few old men in the church yard and maybe 2 other cars.  I did not know what to expect and it certainly was not what I have come to accept as my "norm."  And the more I had these thoughts, I had to pause and pray because who was I to judge?  If I believed that the Lord is present everywhere, then the Lord could very well be present at this one room, white painted building with its air conditioners hanging out the windows, grassy parking lot, and church sign under the huge tree.  This was the place for the city-wide revival... even if the "city" could not fit in this space.  I pulled into the church yard and told the parking attendant, "Don't block me in!"  I knew that I wanted to be able to get out quickly if I needed to.  He guided me to a comfortable space.  I said a quick prayer and I got out of my car.  As I closed my door and set my alarm using the key fob, that same parking lot attendant asked if I was ready to go in.  I said, "Yes, Sir."  And like a gentleman, he kindly offered his arm and escorted me to the front door.  
I was already a little skeptical as you have probably already picked up, but I walked through the door anyway.  I walked right into the sanctuary.  No lobby.  No foyer.  No narthex.  No vestibule.  I walked right into the sanctuary and to my immediate left was the pulpit with three purple high backed chairs and on my immediate right was one speaker and a keyboard on top of an organ for the church musician/host pastor.  I was warmly greeted by the prophetess/usher who later I found out was also the praise and worship leader.  She complimented me on my appearance, gave me a program in black and white with off centered text and told me I could sit on the second row.  I sat on the second row...on the end of course.  I almost considered giving my program back after the lady, who I figured out later was probably the host pastor's wife said that she only needed to give a program to every third person that comes because the handful she was holding was all they had to pass out.  I began to look around the room, collect my thoughts, and prepare my mind for worship in this very different space.  
I looked up and down and all around the room.  I saw worn royal blue colored carpet and faded navy and tan chairs.  I saw windows boarded up with plywood that had been painted white and a random green chalkboard on the wall.  I assume that they probably used it for Sunday School on Sunday mornings.  There was one bathroom that a lady used during the service and I could hear her as she finished her business because the bathroom was right off the sanctuary.  I had the physical urge to use the bathroom but I held it because I did not want anyone to hear me as I had heard her.  Anyway, I saw cottage cheese ceilings and there was a drummer who did the best she could to keep up with the off beat singer and musician/host pastor.  I looked up and behind me to see a tattered sign that read, "Just Because God Said It."
Just before service began, the guest preacher came in and walked to the back of the sanctuary to put on his robe.  I am not sure if there was a pastor study or not.  There was one door that had the word "Private" on it, and I think that might have doubled as the pastor's study and the finance room because that is also where they took the money after offering.
Service began with a song.
"I bless your name, Oh Holy One!"  
I had never heard of any of the songs she led and obviously no words were printed on the program and there was no screen for me to read the words.  I tried to pick up the alto line as is my custom anywhere I worship but it was so hard to find between the musician and worship leader.  I think there was a little tone deafness at play so I just smiled and listened to them sing their hearts out!  
"I bless your name, Oh Holy One!"
They sang and sang and enjoyed Jesus.  I had not participated in a praise and worship period like that in forever.  They were so sincere and so out of key and it made me smile.  It made me smile because I knew they really were doing the very best that they could.  I did not understand what they meant when the lyrics shifted to -
"Oh Lord, Don't take your praise!"
I did not get that line but they seemed to enjoy it and I chose not to over-analyze and just go with it.
The preacher that was the emcee for the night had a very commanding bass voice and tall, slender frame topped with a white afro.  Before worship, I overheard him talking about how he stopped wearing robes years ago and had someone to make him a preaching jacket that he could put on top of anything.  He had on his preaching jacket tonight - a multi-colored pastel knit garment that really was a pullover thin sweater - accessorized with a black fanny pack, olive green pants, and a red and white button that said "I am loved."  He opened his commentary by quoting pretty much what might equate to a full chapter of the Bible and would pause for the congregation to fill in the blanks.  Thank God for the Bible Drill Team of my youth!  I was able to flow right with them.  He introduced every part of the program with a unique flair of story and prayer requests and scripture.  And one of my favorite parts was when he led the welcome song - 
"The Bible says you're welcome, so you're welcome, welcome, welcome!
The Bible says you're welcome, so you're welcome, welcome, welcome!
Welcome to the House of the Lord!"
The program was set to have a lecturer and a preacher.
Both presentations were inspiring and challenging and more than what I expected.  The lecture was given by a seasoned pastor.  You know, the kind of pastor that has believed the Gospel and preached the Word for so long that every word he speaks is full of conviction and power.  He was that kind of lecturer and those are so rare.  His lecture was based on Proverbs 3:9-10.  His subject was, "Give Back," and I enjoyed listening to him build his argument and prove each point with the text. Just before the preacher got up, an older woman sang her own rendition of the hymn, "Amazing Grace," by request of the preacher.  She sang it with such passion that many were moved to tears as they listened.  Then the preacher got up.  The sermon was a prophetic call to action.  The text was Isaiah 21: 11-12.  His subject was taken from the 11th verse, "Watchmen, What of the night?"  The sermon was an appeal to keep fighting for justice and to never quit doing whatever we are called to do to bring about justice in this world.
At the end of the service, the emcee shared a few prayer requests from the community and the guest preacher gave the benediction.
On my drive home, I began to think critically about all the things we say we "need" in order to have a "successful," inspiring, and impact-ful worship experience.  I wonder how many times are we unknowingly distracted away from the One whom ALL glory is due in order to make sure people are comfortable and entertained when they enter into the sanctuary.  And even if we find that all of the frills are necessary, how many of us are truly giving God our very best with all that we are able to use to enhance the experience?  I may never visit Agape again but one thing I will never forget is their hospitality and their sincerity.  Everything that took place was truly from the heart and I know that God was pleased with what happened in that space last night.  Sometimes, we all just need to visit a church that we think is "dying" or "below our churchy and self-righteous" standards to be reminded that God is everywhere and worship can be just as meaningful without screens and lights and sets, without uniforms and trained musicians and fancy bulletins.  Sometimes we need to worship with children, in nursing homes, in hospitals, at one room churches or outside in nature just to be reminded of what really matters to the heart of God. Sometimes we need to be reminded that what we say is our best is empty because our hearts are far from God.... even if the presentation was "spectacular."
Say AMEN, Somebody!
Friends, today I pray for churches everywhere.  I pray that every church opened in Jesus name would be filled with revival.  I pray that hospitality and sincerity would be the order of the day and that humility would keep our attitudes in check.  I pray that churches everywhere would be open to hear how God may be leading them in this season and that they would give their very best in every way as unto the Lord.  I pray that we would be open to experience God in new and exciting ways that draw us closer to God's vision and mission for our lives individually and collectively.  I pray that YOU would do your very best as you serve wherever you are and that the temptation to compare and compete with other churches - or people - is defeated.  I pray that we would not fear sharing the Gospel with the world and with each other, including in spaces that are unfamiliar, uncomfortable, or inconvenient.  And I pray that in everything we would LOVE God with our all and LOVE our neighbors as we love ourselves more than we love our buildings.
IN JESUS NAME...
Say AMEN, Somebody!
GOD LOVES YOU and I DO TOO!
Delesslyn
Greetings!
BlogFam - 
This is a slight departure from our current series but one that I believe you will appreciate...  
I was invited to PRAY on the last night of the LIGHT IT UP Prayer Call series.  This was a week of prayer for children and youth in light of recent events and all that our children and youth have to face and deal with everyday, everywhere.  I pray that this prayer blesses you and I ask that you PLEASE share it with EVERY young person you know that needs to be challenged and encouraged to carry the LIGHT of Christ everywhere they go!
LISTEN and BE BLESSED!
LIGHT IT UP PRAYER CALL
Delesslyn Kennebrew Praying 10-30-15
You need Flash Player in order to view this.
THE PRAYER...
God of Fire and Light, First we say THANK YOU for being so good and so kind and for just being the same, yesterday, today, and forevermore.
THANK YOU for calling us together for such a time as this, to pray and intercede on behalf of children and youth everywhere.
I ask you to please forgive us for the many ways that we have dismissed, disregarded, or diminished the light of Christ that is available to shine brightly in and through and on all of us.  Forgive us Lord and ignite our fire again.
God of Fire and Light – I pray that on this night, we would open our hearts and minds, our ears and our eyes to the many ways that the darkness of injustice, abuse, violence, hypocrisy and silence pervades and invades the world…. Our city… our streets… our schools…and even our homes.
God of Fire and Light – I pray that on this night we would avail ourselves to be vessels of your light.  You are the light of the world and when we say YES, we invite you to light a fire in our souls that calls us to be light bearers everywhere we go. 
God of Fire and Light – I pray that on tonight we would recommit ourselves to walk in the light, beautiful light.  We recommit ourselves to come where the dew drops of mercy shine bright.  Lord, please shine all around us by day and by night.  YOU are the light of the world.
And on tonight we acknowledge you as the light of the world.
On tonight we choose to walk OUT of the darkness.
And from this point on WE will light up your world!!!
IN JESUS' NAME...
GOD LOVES YOU and I DO TOO!
Blessings, Glory, and Sunshine!
Delesslyn
Follow Me on Twitter @AudraSunshine or IG @AudraSunshine1
SPECIAL THANK YOU to Rev. Dominique Robinson, M.Div. for the opportunity to pray for our youth during this series hosted by the New Life Presbyterian Church in College Park, GA.  She has a big heart for the youth across this nation and I was honored to be apart of her vision! [Twitter @DominiqueAyesha]
SOMETHING IS MISSING
Friends, I know that I have not written a blog post in a few weeks and I offer no excuses to that end.  But today, I could not move through this day without releasing what is in my head and in my heart.  I honestly feel like my head is about to pop and my heart is about to explode because of all that I am learning, reading, seeing, hearing, feeling and sensing all around me.  And in times like this, I cannot always find the right words to say.  But I am often reminded in these times of the words of a song I learned as a child… Jesus is the answer for the world today… Above Him there's no other…  Jesus is the way… If you have some questions in the corner of your mind, traces of discouragement and peace you cannot find… Reflections of your past seem to face you every day but this one thing I do know, Jesus IS THE WAY.  And as I write these words, with tear filled eyes, the story of Lazarus comes to mind…. Do you remember that moment as the Bible records it?  That moment when Martha meets Jesus on the road and tells Him… Lord, IF YOU WOULD HAVE BEEN HERE, MY BROTHER WOULD NOT HAVE DIED!
That has to be one of the boldest and directly confrontational and emotional filled moments in the Bible.  Who in their right mind would confront Jesus and basically call Him a slacker because He did NOT show up to heal her brother when she and her sister asked him to come the first time?  Jesus took His sweet time and Lazarus died.  AND Martha is hurt, confused, distraught, and angry that her brother is gone simply because the man who had the power to heal did NOT show up.
Friends, Martha felt like JESUS was the missing piece in her brother's struggle and when that piece could have come, but chose not to come, she had a few choice words to the Lord on the road to Lazarus' grave.  Honestly, I would venture to say that there are some followers of Jesus Christ who have the same words for all the confusion and chaos happening all around us and being reported in the news today.  LORD, IF YOU WOULD HAVE BEEN HERE… Maybe Rachel Dolezal would not be confused about her racial identity, the men and women in Charleston would still be alive, the police officer would have kept his knee out of that teenagers back, my dear friend would have been healed from that deadly disease, and so much more…
It is painful and on this moment, I am sad and hurt and frustrated and upset and feeling helpless BUT  I know deep down, very deep down inside that JESUS IS THE ANSWER FOR THE WORLD TODAY and ABOVE HIM THERE'S NO OTHER, JESUS IS THE WAY.  I believe this.  I have to believe this.  I have to believe that there is ONE whose wisdom and power is so far beyond the frailties and fickleness of my humanity and the humanity of those who are the victims or victimizers, oppressors and oppressed, the hated and the beloved.  I have to believe that beyond ALL of this, the Savior of the whole world loves and cares and is still in control.  I have to believe that JESUS is the RESURRECTION and the LIFE that we all need, seek, long for, and want to experience here and now.
Yet, I still want to invoke Martha and say, LORD, IF YOU HAD BEEN HERE…  and even as I write, my Spirit confirms that the I AM is right here.  I hear the Lord saying I AM ALREADY HERE.  I am NOT lost and I am NOT missing.    [Thank You Jesus!]
Friends, I plead with you to BE FAITHFUL.  Let us BE the hands and feet of JESUS everywhere and at ALL times.  We do not have any more time to waste on blaming or criticizing or complaining when we have not been faithful to prayer and Bible Study and coming together as the Beloved Community to seek liberty and justice for ALL people.  The TRUTH is that WE are the ones who are missing from homes, schools, streets, board meetings, city councils, school boards, churches, community centers… Our prayers are missing.   Our positive energy is missing.  Our truth speaking is missing.  Our courage is missing.  Our hope is missing.  Our example is missing.  The Light of Christ shining through us is missing. 
And while I respect the tenets of other religious traditions,I am a JESUS follower and I do not want to be found missing from any place that the Lord would have me or my prayers to go.  What about YOU?  Are YOU missing?  I only ask because, the presence of the Lord is already HERE…
IN JESUS NAME…
God Loves You and I Do Too!
Delesslyn
PLEASE SHARE YOUR THOUGHTS BELOW...
Greetings!
BlogFam - 
On last week, I started this #FREEFlowFriday blogging because I realize that there are thoughts that I have and things I want to say that do not necessarily flow with whatever blog series I may currently be writing at the time.  There are many times when I just want to write what comes to my mind in the moment simply because I have the urge and the unction to write.  So, here we flow again...
This has been a very interesting week and NO I will not splurge on all of the details because that would be way too much for this space and frankly, most of it is none of your business! LOL!  However, I will say that when I feel stretched and recognized that I am being pulled in different directions based on the will and whim of others who deem that their priorities, emergencies, agendas, and dreams are somehow more important than my own, I step back.
YES!  I admit it.  I will step back from anyone or anything that is pushing or pulling me in a way that is unsettling to my own sense of purpose and peace of mind.  I will say NO and give myself permission to refuse to compromise my own sanity.  I will say NO and redirect your sense of urgency away from my calendar so as to avoid whatever anxiety you are trying to impose.  I will say NO and intentionally choose to embrace my own well-being without any guilt or shame.
I advise YOU to do the same.
Actually, I have a role model whose life was completely focused on fulfilling God's purpose for His own life to the exclusion of anyone and anything that would distract Him from that purpose.  JESUS is/was that kind of man.  He models for me the way I must keep the Kingdom of God in mind in EVERY situation and circumstance.  I am not called and I am not committed to going along with expending energy to do anything or meet anyone or participate in conversations that take me far beyond the boundaries of God's purpose for my life.
I will say NO.
And I will say YES.
And I am OK with that.
I pray that on this #FREEFlowFriday you would take the time to regroup and recommit to whatever purpose God has created you to fulfill.  I pray that YOU would have the COURAGE to say NO and to say YES to anyone or anything or any conversation as you seek to remain in the center of the will of God for your own life.
GOD LOVES YOU and I DO TOO!
Delesslyn
FOLLOW ME on Twitter @AudraSunshine or @SpiritedConcept
Greetings!
BlogFam, 
I just had a feeling that I needed to write.... that I needed to write and share something.  And since I have that feeling right now, I decided to follow my gut that I too often ignore when it comes to moments like this.  Now, I will not deviate too far from my norm as it relates to this space.  I will still reflect on a verse or two and see where the Spirit will lead us...
The passage of Scripture that is weighing heavily on my heart in this very moment is this one:
GENESIS 50:19-21
19 But Joseph said to them, "Don't be afraid. Am I in the place of God? 20 You intended to harm me, but God intended it for good to accomplish what is now being done, the saving of many lives. 21 So then, don't be afraid. I will provide for you and your children." 
And he reassured them and spoke kindly to them.
These verses are at the close of the Book of Genesis.  Perhaps I am somewhat "in my feelings" because this is a chapter about family coming together and on this very weekend, I will attend my own family reunion.
I do not know how you feel about your family but anyone who knows me, knows I absolutely love my family - immediate and extended.  I could not ever imagine living through the mess Joseph's brothers put him through.  First of all, my parents would not have let such hatred toward and amongst my siblings exist or get that far.  Secondly, though we are spread apart, we like to be all up in each other's business so someone would have known something and would have spread the word that one of us was in a pit.  Thirdly, at the very heart of all of our nosey-ness is a truly genuine desire for ALL of us to succeed!
I cannot relate to families who fall out and cuss each other out and push each other away or do not speak for decades.  I cannot relate and I do not want to ever experience that kind of division in my life from the people who have the same blood.  By the GRACE of God, in spite of our disagreements and disappointments, we have always come back together.  I know that I can ALWAYS go home and for that I am so very grateful.
Friends, I am praying for you on today.  As my family is traveling for the biennial family reunion and as I am preparing to greet them and embrace them and laugh with them, I pray that YOU will reach out to someone in your family today.  I pray that the family reunions that take place on social media, in person or via a phone call or text, Skype or OoVoo are sweet moments that you will cherish forever.  I pray that you will have moments that reunite your family and get you all on track and on a path of love and commitment to each other.  I pray that you all would trust GOD and forgive one another.  I pray that you would apologize where you have done wrong by your own blood and humbly regain their good graces.  I pray that Joseph's blessing upon his family who did the most horrific things and had the worst attitudes towards him... I pray that his blessing would flow from your lips upon your own family...
19 But Joseph said to them, "Don't be afraid. Am I in the place of God? 20 You intended to harm me, but God intended it for good to accomplish what is now being done, the saving of many lives. 21 So then, don't be afraid. I will provide for you and your children." 
And he reassured them and spoke kindly to them.
And he reassured them and spoke kindly to them.
And he reassured them and spoke kindly to them.
And I will reassure MY family and speak kindly to MY family....
GOD LOVES YOU and I DO TOO!
Delesslyn
FOLLOW @AudraSunshine
/