Shopping Cart
Your Cart is Empty
There was an error with PayPal
Click here to try again
Thank you for your business!
You should be receiving an order confirmation from Paypal shortly.
Exit Shopping Cart
Rev. Dr. Delesslyn A. Kennebrew, J.D., M.Div.
Visionary Strategist Faithful Innovator Inspirational Essayist
Salvation and Stilettos Blog
Greetings!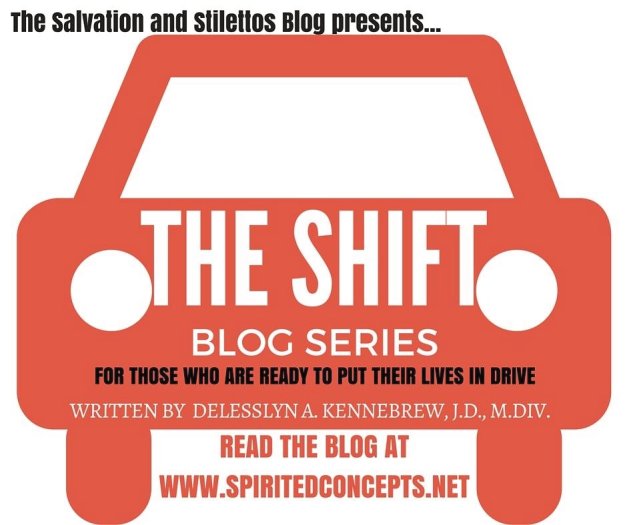 BlogFam, 
One of the questions I ask myself as I deliberate my current situation and attempt to anticipate the consequences of decisions I make in the present moment is this:
LORD, WHAT IS MY NEXT RIGHT STEP?
 Now, if you have been reading this blog for a while or have participated in the annual My Vision Fast [
www.MyVisionFast.com
], then you are familiar with my raising this question with myself and with you.  I know that there are all kinds of decision-making strategies available to us, but this one question seems to capture what I need to know at the time while alleviating some of the anxiety of not knowing every little detail ten steps down the road.
LORD, WHAT IS MY NEXT RIGHT STEP?
In our last blog, we talked about the
DESIRE to shift
and now I want us to acknowledge the wrestling that comes once the DESIRE to shift has been discovered within ourselves.  I am aware that it is a common pattern for me as well as many of my family and friends to then DELIBERATE after DESIRE.  By this, I mean, once the DESIRE is discovered, then all kinds of things pop off in our minds and spirit that call for a time of deliberation.  During this time of deliberation we consider pros and cons.  We think about timelines.  We think about partnerships.  We think about money.  We think about how this desire will now impact and influence our spouses, our families, our business partners, our friends, and other relationships.  We wonder about how we will look in the eyes of others.  We hope that we are not being crazy or that our idea is not too far-fetched.  We might even reconsider whether or not the desire we have is for now or for later or if we should pursue it at all.  DELIBERATION.
Friends, I have certainly been there and continue to deliberate in my own life.  DELIBERATION was part of my journey as I considered my academic pursuits, my dating life, the purchasing of my home, the accepting of my call to ministry, and so many other things.  And when the Spirit led me to ask that particular question in the midst of my deliberation several years ago, it opened my eyes, gave me comfort, released my anxiety, soothed my doubts and calmed my fears. [I borrowed the last two from an old Gospel song LOL]  Anyway, let me explain how this one question never gets old AND how it is now the FIRST question I ask in pretty much every moment of DELIBERATION.
LORD, WHAT IS MY NEXT RIGHT STEP?
FIRST - This question is grounded in Matthew 6:33, one of my favorite verses of all the Bible when it comes to decision making.  " But seek ye first the kingdom of God, and his righteousness; and all these things shall be added unto you." [Matthew 6:33]  In other words, the very first person I know that I must acknowledge is the Lord in every area of my life.  Yes, I do draw wisdom from the counsel of many as advised in the book of Proverbs; but ultimately, I seek the peace of God and that can only come if I acknowledge the Lord in my deliberations.  I must seek... WE must seek the Lord FIRST, acknowledge His authority in our lives and His righteous way of being in the world as we are the hands and feet of Jesus.  I know that I can never err if I keep this in mind. 
SECONDLY - This question is very personal.  While I know that the consequences of my choices might impact others, when I ask this question, I am ultimately asking for my own sense of clarity and direction during my deliberation.  I know that it is important to LOVE MYSELF so that I can love my neighbor as myself and when I am clear about God's purpose and vision for my own life, I can be a better neighbor.  And as a good and loving neighbor, I do not have to be jealous or take over assignments that are not mine or tear others down to build myself up or anything else in that vein that is manipulative or conniving.  All of that is a waste of time and energy because I have already been given the direction for my own life and have no time to waste in derailing the destiny of others.  Actually, when I am clear, I can help you because by helping you I am loving you and competition is not a factor because my soul, my spirit is at peace with God.
THIRDLY - The question is directly concerned with the next step one.  I know that last sentence sounds strange but it is true.  I have discovered that when I try to figure out every little detail about my destiny and how the Lord will bring all of my gifts and graces to light in God's overall and seemingly overwhelming plan for my life, I can get a little frazzled and nervous and sometimes I have even wanted to just step back from it all just so I can collect my thoughts.  BUT as I deliberate, if I think about the big picture, at least as much has been revealed to me, and then I ask myself, what is step one in getting there, I feel much better.  Sometimes, I can only handle step one.  Step one might be to pray.  Step one might be to make a phone call or just be quiet.  Step one might be to have another conversation.  Step one might be to download the application.  Step one might be to forgive or read the next chapter or visit a friend.  I have found that I can always handle step one. And as I am obedient to THAT next right step, then the Lord has a way of making everything else clearer... a way of adding all things unto me.
Friends, ask the Lord this question as you begin your deliberation.
LORD, WHAT IS MY NEXT RIGHT STEP?
Write down your answer and OBEY TODAY.
GOD LOVES YOU AND I DO TOO!
Blessings, Glory, and Sunshine!
Delesslyn
DECISIONS, DECISIONS, DECISIONS
Romans 10:9
LISTEN NOW!!!
BLOG - Decisions
Salvation and Stilettos Blog
You need Flash Player in order to view this.
Greetings!
BlogFam, I know it has been "forever" since my last post and I can offer no excuses so I will leave them out of this blog and just keep writing.  I have been writing personally but I have certainly missed writing in this way and publicly sharing my writing.  However, we will celebrate that I am fully present today in this space and I am grateful that my passion for writing has not drifted, diminished, or died.  So, here we go again… at least today… and prayerfully for many more days in the very near future.
As most of you already know, Salvation and Stilettos is my personal space to share my thoughts on scripture and on today, I admit that my reflections begin from a place of personal introspection and observation and our scripture is one that has come to my remembrance in light of recent events in my own life and the lives of those around me – physically and technologically.
The bottom line summation of this entire reflection is this: ONE decision can change your whole life.  ONE decision can alter the course of events in ways that you may or may not anticipate.  ONE decision can shift your destiny or the destiny of those around you, those who are connected to you or those from whom you have been disconnected.  ONE decision can change everything.
Decisions.  Decisions. Decisions.  We make them every day.  And regardless of whether you think your decision in the moment is of major consequence or of consequential insignificance, the truth is that every decision we make can impact our lives and our witness in ways that we may never know or completely understand. 
Lately, I have been hearing this word over and over again in random and in previously scheduled conversations and while the word is common, my hearing of it has echoed in the depths of my Spirit.  And without going into too many details, a few weeks ago, someone, whom I considered a dear friend made ONE decision that I know has and will continue to impact their life way beyond the moment the decision was made.  And regardless of whether my friend feels regret or relief, guilt or glory, shame or satisfaction, I know that that ONE decision changed their life.
Now, let me be clear, I am not going to offer you steps, guidelines or rules to make good decisions, wise decisions, strategic decisions, well thought out or compassionate decisions.  It is simply my intention to REMIND you that ONE decision can change your whole life.
I have made a lot of decisions throughout my life and so have you.  We all make decisions every day.  A decision is the act or need to make up one's mind.  Making decisions – making up our minds about anyone or anything – is an inevitable factor in each and every one of our lives.  And on today, I just want you to be reminded that the decisions you make about your life or the lives of those around you mean something and will cost you something whether you feel the impact of them negatively or positively or not.  And all it takes is ONE time to make a decision to change everything.
For once you have made up your mind about someone or something you have indicated the judgment that has been made, determined a preference or come to a conclusion.  And not making a decision is still a decision to stall, delay, avoid, or maybe even pray about the matter before you that must be decided.
BlogFam, on today, I submit to you that there is ONE decision that all of us must make, determine, or come to and it is the decision as to whether you will or will not follow Jesus.  The decision to do so has present and eternal consequences.  This is the decision of your soul. 
Now, I might not offer any other resources to help you make the decisions that you need to make about anything else on today but I hope that you have or that you will decide to CHOOSE JESUS!  I pray that on today you will – if you have not already – DECIDE to BELIEVE and CONFESS, CONFESS and BELIEVE as in Romans 10:9.
That if thou shalt confess with thy mouth the Lord Jesus, and shalt believe in thine heart that God hath raised him from the dead, thou shalt be saved.
BlogFam, I have made a lot of decisions in my life but the ONE decision that I made so many years ago has made THE difference in my whole life and the life that is to come.  This ONE decision changed my life and I live in light of its consequences every day.  I do my very best to honor my decision to CONFESS and BELIEVE and I pray that you will too.  I know that this ONE decision impacts and influences EVERY other decision about my life and my lifestyle and I do NOT want to even guess, speculate, role play, imagine, or explore the path of my life without Christ.  I just pray that every decision I make on every day reflects the decision I made many years ago to be a follower of Christ.
So, I am not sure whether this is the beginning of a new series, as is my custom, or not, but I do know that DECISIONS – DECISIONS – DECISIONS have been on my mind and my belief and confession is THE deciding factor in every one of them.
God Loves You and I Do Too!
Delesslyn
FOLLOW Me on Twitter- @AudraSunshine   @SpiritedConcept   @MyVISIONFast
SUBSCRIBE to and SHARE the Salvation and Stilettos Blog!
LISTEN to the Kids Korner Radio Program every Sunday evening at 4:15C/5:15E online at  www.wigoam.com or on your Tune In Radio App!
/