Shopping Cart
Your Cart is Empty
There was an error with PayPal
Click here to try again
Thank you for your business!
You should be receiving an order confirmation from Paypal shortly.
Exit Shopping Cart
Rev. Dr. Delesslyn A. Kennebrew, J.D., M.Div.
Visionary Strategist Faithful Innovator Inspirational Essayist
Salvation and Stilettos Blog
I know what it is like to WALK ON WATER… 
[2012 End of the Year Reflections]
Matthew 14:22-34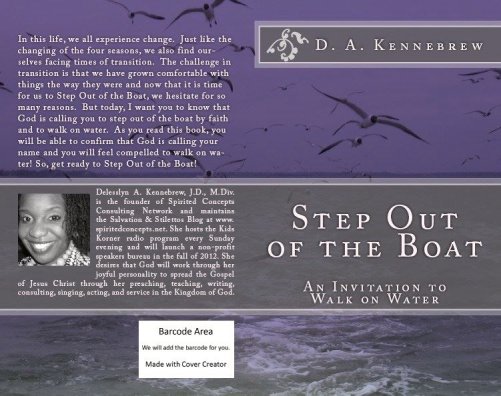 Greetings! 
 BlogFam, as I begin to reflect on my life over this past year, I have to go all the way back to Tuesday, November 22, 2011 because that was truly the beginning of a NEW YEAR for me.  My 2012 really began on Tuesday, November 22, 2011 when I felt very deeply the Holy Spirit calling me to Step out of the Boat of my then current place of employment.  I have shared a portion of my story in previous posts and today I celebrate that my obedience to the Spirit's leading me in 2011 has already positioned me for an even GREATER 2013.  
 In November 2011, my church was talking about VISION and what was next on the horizon for the church.  I was looking forward to all that God had in store for the ministry and the Holy Spirit whispered to me one day that it was time for me to pray about my own VISION for MY life.  So for 21 days, I fasted and prayed about what God's VISION was for Delesslyn.  I was listening to a sermon by Bishop T.D.Jakes and one of the scriptural texts he used as a sermonic illustration was Matthew 14 when Peter walks on water.  For some reason, that illustration, that passage of scripture deeply resonated with me early on in my fast and I began to read and pray that text every day, multiple times a day. 
 Well, on Sunday, November 20, I was sitting in church and as the pastor was preaching, I know that I heard the Spirit say to me – "Delesslyn, YOU WILL WALK ON WATER in 2012."  And I could not shout right then because while I felt an overwhelming sense of peace I did not fully understand what that meant.  On Tuesday, November 22, I got up early to pray and I prayed what Peter prayed when he saw Jesus walking on water but was not sure it was Him.  Peter said, Lord, if it be you, bid me to come."  I prayed what Peter prayed.  And by midday, the Lord said to me, just as he said to Peter, "Come." 
Friends, I resigned from my job on that ONE word from the Lord and 
I never looked back.
 BlogFam, my 2012 really began on Tuesday, November 22, 2011 and when I walked out of my office for the very last time, I began to WALK ON WATER.  Now, let me be clear… I am NOT advocating that you just up and leave your job or your marriage or your house or any of your obligations because of my testimony but I am saying that you must be sensitive to the leading of the Holy Spirit as the Holy Spirit leads you to, through, and away from whatever or whomever is not a part of your life's next chapter.  
 When I stepped out of the boat, I did not know what was next or who I would meet or where I would end up but I knew that I had made the BEST choice for me because I had obeyed the voice of the Lord.  And YES, I have had to remind myself of that many times over this year but when I tell you that I have walked in favor because of my obedience to the one who called me to WALK ON WATER in the first place, I hope that you are encouraged and motivated to seek to hear the voice of the Lord for yourself! 
 This entire year has been a year of truly walking by faith for every meal and for every bill and the Lord has NOT been slack concerning His promises.  I had no clue how radically different my life would be when I prayed that prayer and obeyed the Lord's summons to COME.  I did not know exactly what to expect and for this entire year, I have had to lean and depend upon Jesus in ways that make me even more grateful for the basic necessities of life that we, too often, take for granted. 
 My sisters and brothers, my life has been filled with transitions over the last year in every way and everything has worked together for my good.  Now, I admit that, like Peter, when the winds and the waves made my steps a little wobbly, I cried out to the Lord and I held even tighter to His hand because I felt like no one that I knew truly understood what I was going through and I knew that I had to continue to press my way through.  But, unlike Peter, I was determined to stay on the water.  I was NOT getting back in anybody's boat.  I wanted to WALK ON WATER to the next destination the Lord had prepared for me.  And so I did. 
 And today, I have the testimony that I know what it is like to WALK ON WATER.  It has not been easy.  I have not been perfect.  BUT GOD has always been faithful to order my every step, catch me when I slipped, and even to carry me when I felt like I was drowning.  I would not change anything about my 2012, that started on November 22, 2011 and as I prepare to walk into 2013, I pray that I will NEVER forget all the lessons I have learned and the miracles I have seen in my own life.  I am stronger.  I am better.  I am wiser.  And I am still WALKING ON WATER! 
 BlogFam, as we come to a close of another year – WHAT ARE YOU BEING CALLED TO DO IN THIS NEXT YEAR?  Are you being called to WALK ON WATER?  Are you being summoned to BE STILL?  Are you being compelled to just BE FAITHFUL and to PERSEVERE until you receive your next instruction?  I pray that you are OPEN to the most genuine voice inside of you.  I pray that you are LISTENING and that you will TRUST and OBEY the instructions of the Holy in your life.  I pray that you will not negotiate regarding the decisions you need to make regarding your destiny and I pray that you will courageously leave behind anyone and anything that would hinder you from experiencing God's very best for your life.
 BlogFam, 
YOU ARE READY to WALK ON WATER!!!  
YOU ARE SET to WALK ON WATER!!! 
Now GO WALK ON WATER and DO NOT LOOK BACK!!! 
HAPPY NEW "WALKING ON WATER" kind of YEAR!!!
 God LOVES You and I Do Too!!!  
Delesslyn A. Kennebrew
PLEASE Purchase my book, STEP OUT OF THE BOAT for a more in depth reflection on Matthew 14...  A product of my journey this year...
JOIN a NEW Social Media Movement -
MY VISION FAST: It's Time For You To SEE!
Coming in January 2013 and we want YOU to join us!
FOLLOW @MyVISIONFast
/